IoT (Internet of Things)
Make smarter, data-driven decisions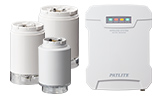 Wireless Data Acquisition
System WD-LR
The WD Wireless Data Acquisition System is a cost-effective, IoT-enabled, retrofit solution for PATLITE Signal Towers. The WD system enables businesses to seamlessly acquire equipment status changes for real-time operational monitoring and troubleshooting, Wireless Data Acquisition predictive maintenance, and increasing OEE.
The WD system uses the Zigbee wireless technology allowing the system to automatically select the best routes to send data, ensuring accurate and reliable data transmission.
Monitoring assembly lines and
communicating from work stations
The WD Wireless Data Acquistion System allows managers to monitor all workstations on a production line in real-time from remote locations.
Operators are able to manually trigger visual and audible signals as well as call for parts in another facility or signal an off-site manager with the integrated WD system.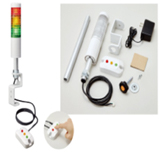 Manual Control
HSST Switch Box