Flow to start of operation
Investigation of equipment subject to small start

Consider the smallest scale that can verify the effect of improvement,
such as one line.

Investigation of "visualization" software for facility operation

In-house development and use of
WD partner software.

Radio environment survey

Investigation of signal lights of the object equipment

List of device settings

Initial setting of WD series

Installation work

For the wiring of the power supply for the transmitter,
refer to Installation Guidelines".

Test operation

Start of operation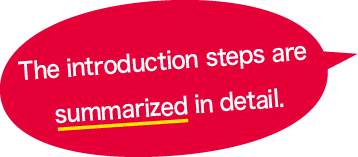 "Installation Guidelines"
Introduction Guidelines
This booklet focuses on the basic functions of the WD-Z2 series to ensure the smooth introduction of WDs and summarizes the flow of WDs until the start of operation.
Please understand the details of each introduction step and attach reference materials for planning the introduction plan and sharing information with related departments. Be sure to understand the contents before starting the introduction.
How to obtain introduction guidelines
Download from "File Downloads" on the products page.