Recruiting Partners
PATLITE is looking for Partners who would like to collaborate with us in providing customers with quality signaling solutions!
In addition to technical collaboration, we also provide promotional and marketing partnerships.
Benefits of Becoming a Partner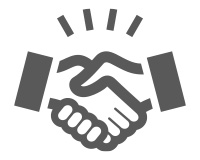 Expand sales opportunities by introducing partner products on websites, catalogs, and other promotional tools.
Increase opportunities for business through collaborative promotions such as trade shows and seminars.
Strengthen relationships with your clients with the support from PATLITE representatives, by providing high-quality, reliable products and services.