LA6-POE
Fully Customizable, PC Programmable LED Signal Tower with Ethernet Connectivity
The LA6-POE supports PoE (Power over Ethernet), eliminating the need for input and output modules for PLCs or running wires. A free, easy to use PC programming interface is available to configure the light and sound patterns of the signal tower for customization to your specific signaling needs.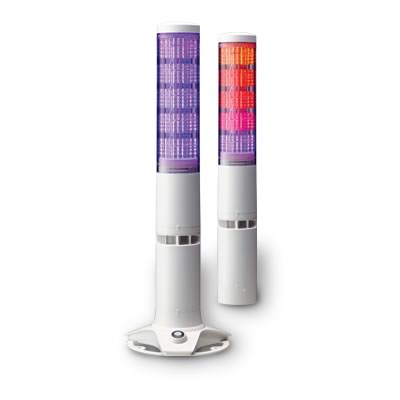 Product Details
Φ60mm
21 Colors
11 Alarm Sounds
Power over Ethernet
IP54/IP20
| Rated Voltage: | 24V DC / 48V DC (PoE) |
| --- | --- |
| Tiers: | 5 |
| Body Color: | Off-white |
| Mounting: | Direct Mount / Stationary |
| IP Rating: | IP54 / IP20 (Stationary Type) |
| Protocol: | Modbus TCP UDP / HTTPS |
| Sound Pressure: | 85dB (at 1m) |

Features
Function
Applications
Optional Parts
Programmable, multi-color signal tower designed to replace standard stack lights
Features 21 LED colors and 11 alarm types
Ethernet connection with PoE (Power over Ethernet) support, enabling single cable installations
Supports a range of communication protocols
Built-in web interface for quick and easy configuration
Mirroring function: Replicates signals on up to 8 slave devices in remote locations
1. Smart Mode
The EDITOR software for the LA6 series allows you to quickly configure your LA6 signal tower.
* Animations: Light color cycling resembling flashing, pulsing, running lights, etc.; can also include an audible alarm
* Patterns: Any combination of solid colors and/or audible alarm.
1. Time Trigger Mode

Display animations that transition at preset timings.

Animations are initially triggered by an input command and then run based on set timings. Common Applications: Production Cycle Time, Takt Time System

2. Pulse Trigger Mode

Display animations or patterns in fixed sequences. Sequences are triggered by inputs, commands or setting elapsed times.

Common Applications: Pressure or Temperature Display

3. Single Light Mode

Display a single pattern at a time and trigger pattern transitions by input or command.

Common Applications: Status Indication, Level Monitoring
2. Input Methods
The LA6-POE supports a variety of communications protocols or it can also be triggered through the terminal block.